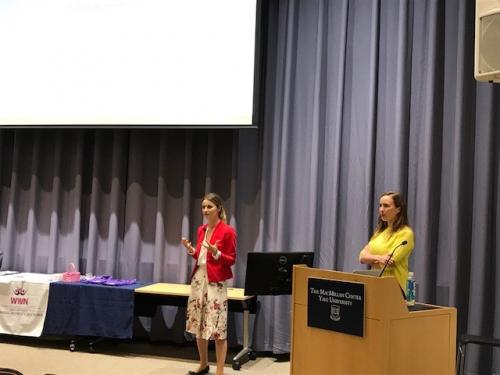 On May 25th, coaches Dijana Galijasevic, founder of Positive Business Lab and Ula Mikus, founder of Happiness Academy NYC, shared best practices on how to thrive at the workplace and translate happiness into influence.
They introduced the concept of changing our circumstances at work by changing the way we see them. When employees feel that their work matters, come to a culture where people genuinely greet each other and have strong and supportive relationships, the work is truly more enjoyable. Happiness at work is a reflection of our state of mind and our sense of purpose to it. It comes through finding joy and a sense of fulfillment from what we do.
Dijana and Ula also discussed the background of personality formation on two real life examples with a key message to practice acceptance and forgiveness.
One of the recommended methods for releasing stress and increasing happiness was meditation and the importance of everyday practice. At the end of the event, we had the pleasure to meditate together for a couple of minutes and everyone left more energized and optimistic.
Click here for the PPT presentation.