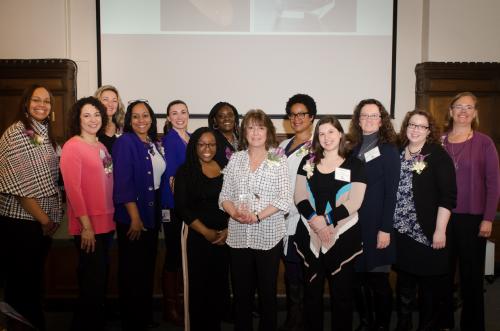 Linda Caruso is our phenomenal woman! 
Deborah Stanley-McAulay, Chief Diversity Officer, welcomed the audience on behalf of the Working Women's Network (WWN), Office of Diversity & Inclusion (ODI), and the 6,700 women in WWN. She then proceeded to highlight some female facts at Yale. Yale staff is comprised of 6,700 women. With 67% of Yale's overall population, women are the largest group. The creation of WWN means that, for the first time, this one collective unit is the opportunity for women to have a voice. Women represent every job classification at Yale. The 2 Yale senior most women are: Eileen O'Connor, Vice President for Communications; Kimberly Goff-Crews, Secretary and Vice President for Student Life; and Joan O'Neill, Vice President for Alumni Affairs and Development. Joan is also WWN's Executive Sponsor, helping WWN chart our course. No matter where they are in the organization, however, every single woman on campus is helping shape the discussions around inclusion, whether it is inclusion of women and beyond. Finally, Deborah remarked that the WWN Recognition Award was particularly dear to her heart because it is Yale's own internal acknowledgement of its phenomenal woman. She concluded by saying that the recognition award is WWN's new tradition.
WWN's co-chairs, Jennifer Mendelsohn and Diane Miranda, gave an overview of the mission of the affinity group, echoing Debbie's words by emphasizing the inclusiveness of our objectives. Diane and Jennifer then highlighted some of the events WWN has organized in the past, such as lectures, workshops, and social events. Finally, they described a few ways to engage with WWN, whether it is through joining a WWN Committee, or attending a Steering Committee meeting (they are open to all to attend and take place every third Thursday at 12PM at 221 Whitney Avenue), or through some punctual volunteer position.
Emmanuelle Delmas-Glass, founding co-chair of the Recognition Award, explained how the award was created to celebrate the vibrant community of women at Yale, and spotlight the one who embodies WWN values best each year by her personal efforts and strong commitment to improving her community.  Emmanuelle went over the nomination process and how 2 committees helped select the final recipient from 62 nominations that came in from November 1 to December 16, 2016. The Review Committee was comprised of Susan Abramson, Kelly Cronan, Karin Gatison, Rochelle Goodwin, Kate Hathaway, Barbara Hildebrand, Shaun King (co-chair), Marinda Monfilston (co-chair), Amy Myers, and Emmanuelle. The Review Committee put 6 nominations in front of the Advisory Committee (Jennifer Mendelsohn, Diane Miranda, Deborah Stanley-McAulay, and Joan O'Neill) who selected the final recipient.
Finally, Joan shared her thoughts about WWN.  She first remarked how WWN's calendar of events provided for many great opportunities in terms of career advancement, work life balance, and mentoring. She particularly reflected on her own career and acknowledged the push and pull of work and home life by sharing personal anecdotes. She referred to Sheryl Sandberg's career jungle gym (Lean in) as she offered advice for career advancement, making clear that a woman's career trajectory was rarely constantly upward but that the skills gained in such moments of sidewise movements were invaluable.  She then proceeded to reflect on the true power of networks and how this was so superbly exemplified by WWN.
Joan then announced that Linda Caruso is WWN's first Recognition Award recipient, recognizing her commitment to making her community at the Yale School of Nursing a great place where to work. She particularly praised Linda's tireless efforts to work with YSN staff, senior administrators, and faculty alike to challenge the status quo from a place she did not necessarily have authority (we will run a Spotlight on Linda in the next WWN newsletter).
Check out the event photos here. Check out the recording here.