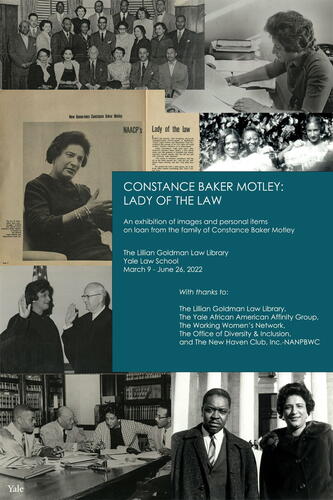 An exhibition tracing the career of Constance Baker Motley (1921-2005), Civil Rights attorney and New Haven native. The first woman attorney at the NAACP Legal Defense and Educational Fund; the first Black woman to argue before the United States Supreme Court; the first Black woman Senator in New York State; the first woman Manhattan Borough President; the first Black woman to be appointed to the federal bench; one of the first Black women graduates of Columbia Law School: these and others are among the many extraordinary accomplishments of Judge Motley's career.
Drawing on images and personal items from the collection of her family (Constance L. Royster), and on her own words in her autobiography, the exhibition offers a glimpse of Motley, brilliantly at work, from her childhood in New Haven through her career as a Civil Rights attorney, New York Senator, and federal judge.
Organized by Jordan Jefferson (Yale Law Library), Marinda Monfilston (Office of Diversity & Inclusion), and Fallon Thomas (New Haven Hiring Initiative) and curated with Kathryn James (Yale Law Library).
For further information and a gallery of images, please visit the online exhibition at: https://campuspress.yale.edu/writinglaw/.