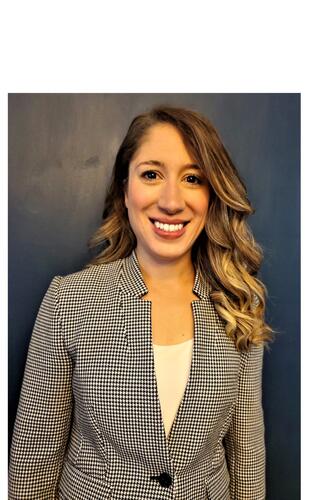 Angelina Stackpole recently made the move from Assistant Director of Reunion Giving to Associate Director of Reunion Giving in Yale's Central Office of Deveopment, but her journey with Yale and Development began long ago. 
---
How did you begin your career (either at Yale or before)?
I began my career in Development as a student phonathon caller during my undergraduate education at UConn. In this role I called alumni and solicited their financial support for the university and health system. I learned how to engage alumni by asking targeted questions that evoked positive experiences and anecdotes from their time as a student. I also gained experience navigating difficult conversations or reactions. I learned that I enjoyed the challenge and excitement that came with securing a financial commitment for the university. After graduation, I decided to continue to explore this career path and further develop my fundraising skills. I joined the American Heart Association, first as an Administrative Assistant, then Special Events Manager, and then become a Director with fundraising responsibilities in Greater New Haven, a position I held for six years before coming to Yale.
Tell us about your current role at Yale University?
I currently serve as an Associate Director of Reunion Giving in Yale's Central Office of Development. I started as an Assistant Director of Reunion Giving in September 2017. I work with Yale College alumni in a reunion year to oversee a special initiative called the Reunion Gift Campaign.  Every five years (from their 5th to their 65th), Yale College alumni celebrate Yale's tradition of coming back and giving back – by returning to campus for a reunion weekend celebration, and by presenting the university with a class gift in honor of their reunion. I recruit, mobilize, and coach a committee made up of top donors and volunteer leaders to solicit their classmates for a reunion gift. I enjoy getting to know the volunteers and donors, and hearing about where life has taken them after their time in New Haven. I collaborate with colleagues throughout Development to tailor solicitation strategies for top donors in the class, and partner with volunteer leaders to solicit larger than usual commitments in honor of their reunion. The class's reunion gift total is typically announced during the class dinner over reunion weekend. 
What do you like most about your work?
I 
love working with Yale's talented and extraordinary alumni base. I enjoy strategizing with volunteers and colleagues on the best approach to engage donors and solicit financial support for the university. I enjoy the momentum and passion from alumni to give in honor of their reunion. I love the challenge of meeting fundraising goals and sharing success with my volunteer leaders and colleagues.
What skills, abilities, and personal attributes do you think are essential to success in your job/this field?
Development professionals are relationship builders. They are strategic, and inspirational in their approach to raising funds. Development professionals are driven, they persevere, and are not afraid of hearing "no". They are good listeners, and can communicate their organization's mission and goals well. They are authentic, and build trusting relationships with their donors and volunteers. 
How does your job affect or compliment your general lifestyle?
In my role, we primarily conduct our work with volunteers and donors via phone, email, and sometimes video. Except for a few events and meetings each year, the role doesn't require a lot of travel, which means I am able to be home for dinner and spend quality time with my family, and that's important for me. Yale, and more specifically the Office of Development, offers many opportunities to support the health and wellness of employees, which is a huge perk. I enjoy taking advantage of these benefits.  
How did your time at Yale shape your career trajectory?
My position has given me tremendous experience in the field of higher education, an area that has always been a passion of mine, and the direction where I saw my career going. I have gained experience in gift opportunities, like planned gifts, that I did not have exposure to in my previous organization.  
If other than your own, what steps would you recommend one take to prepare to enter this field?
Especially in the early stages, volunteering and networking are always helpful to build connections and gain experience. 
If you could do it all over again, would you choose the same path for yourself?
I would! I'm happy with the career path I chose. I feel fulfilled and challenged. I know that I'm doing good work and contributing to an important mission. I enjoy the environment I work in and am fortunate to work with talented colleagues and passionate volunteers. 
Are you involved in any other part of the Yale community?
I currently serve as Co-Chair for the FLY (Future Leaders of Yale) Lean-In Mentorship Program. The program offers a series of panel discussions featuring faculty and staff each academic year, focused on career-development topics relevant to the FLY contingency.
What does being a working woman at Yale mean to you?
For me, being a working woman at Yale means I have a career that I love and the resources I need to be successful, while managing my other roles as mother, wife, friend, and community member. Yale offers remarkable support and resources for working women. When workplaces break down barriers to help women be successful in their professional and personal lives, it benefits everyone. I have a fantastic manager who is fair, compassionate, and supportive. And, while she has high expectations, she respects that her team members have responsibilities outside of the office. As a new parent, I had the support and resources to care for my daughter and once I returned to work, manage my job while taking advantage of benefits offered by Yale, including the lactation rooms. I have been able to adapt many skills I've learned through parenthood to the workplace: patience, flexibility, focus, an ability to prioritize, and perspective, which has helped me become a more successful employee. Yale offers many ways for employees to participate in volunteer opportunities and engage in professional and personal development through Yale's Affinity groups. Being a working woman at Yale means having a sense of self outside of my role as wife and mother. 
What advice would you give women just beginning their careers at Yale?
I would advise women just beginning their careers at Yale to get involved in areas of the organization they are passionate about. Yale's many Affinity Groups offer volunteer opportunities and sometimes leadership roles. It's a great way to build your resume and make connections outside of your team or department. Attending events put on by Affinity groups and other areas of Yale are also helpful ways to make connections and hear how others built their careers. I also recommend taking advantage of opportunities to learn more about Yale, it's students, and faculty, by going on tours, and attending talks and events.